We aim to keep the rugged a little more refined by providing
HIGH-PERFORMANCE, NO-NONSENSE, AUSSIE-MADE MEN'S GROOMIING
that is affordable, low fuss + multi-functional... served with a side of humour.

OUR STORY
Take two Melbourne locals, a dimly lit bar on Flinders Lane and a shared frustration with the current state of men's skincare and you have the makings of Australian skincare label, Charles + Lee.
Faced with a skincare market saturated with over-the-top gimmicky products that drown you with baseless claims, Charles + Lee takes the hassle out of skincare, an easy to adopt men's grooming line suitable for any bloke wanting to get started with their skincare journey.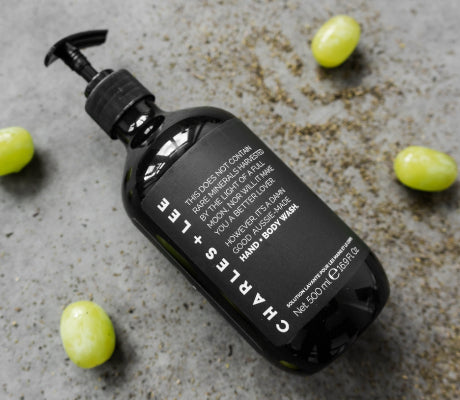 Our sleek and minimal products hero our nourishing skincare formulas that have accumulated over ten years of experience in the cosmetic science and skincare industry.
Like all good things, our products are made in Australia from natural ingredients that are;
Cruelty-Free | Vegan-Friendly | RSPO certified
SHOP ALL SKINCARE
WE ARE STRAIGHT TALKERS, LAID BACK + IF WE DO SAY SO OURSELVES, DAMN FUNNY